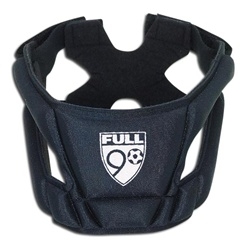 The F90 Premier is built to defend against hard surface impacts, and has been proven to reduce the probability of a concussion. It is lightweight, ventilated, and constructed of dual-density Forcebloc™ foam to protect the crucial impact zones at the forehead and temple.
The new Premier model represents the latest advancements in Performance Protection Technology™ and Tru-Play™ design. It is based on feedback from professional players and their use under real game conditions. This is the cutting edge of headguard technology and is ideal for those athletes who play full out, even at the highest levels of the game.
Protection
Full90 Performance Headguard™ protects a two inch section around the head (which includes the forehead and temples), that receives a majority of the concussive head impacts. Within this crucial zone our revolutionary
ForceBloc™ foam reduces impact forces from reaching the head, meaning fewer concussions overall and areduction of severity of injury. In fact, a recent study found that college players NOT wearing a Full90 Performance Headguard™ were 2.65 times more likely to receive a concussion than players that did.
Performance
But superior protection is only half the story. Full90 Performance Headguard™ also utilize the patented Tru-Play Design™ which combines advanced ergonomic engineering with applied biomechanics research to ensure that the headguard conforms naturally to the players head for the ultimate fit. By ensuring an optimal fit our headguards never alter a player's style of play or the "ball feel".
Color: Black