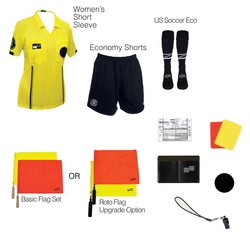 Our Suley's Soccer Special! The ultimate Referee Starters Kit to set you off on your career as a ref.
The Starter Kit includes either a Economy USSF Short or Long Sleeve Shirt, Economy Shorts, Basic Socks, along with a Red/Yellow Card Set, Data Wallet, Scorepad, Velcro Disk, Whistle, Wrist Lanyard, and a Flag Set all for just $ 53.95
In this deal you get the choice of either a Short Sleeve Jersey or a Long Sleeve Jersey and a choice of one of two different styles of socks.
If you do not see your size or preferred color online or for any further inquiries please call the store at (603) 668-7227.